Petrolimex and VNR boost comprehensive cooperation
Vietnam National Petroleum Group (Petrolimex) and Vietnam Railways (VNR) will strengthen cooperation in investment and business activities in the future.
Petrolimex and VNR signed an agreement today to comprehensively boost cooperation and fully exploit their existing advantages. Under the agreement, VNR will prioritise using Petrolimex's petrol products. Regarding transportation services, the two sides will study the possibilities of connecting railway routes and petroleum storages.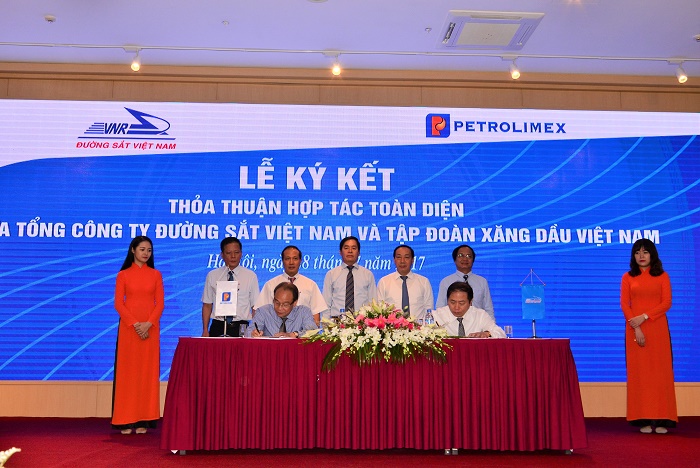 Petrolimex, VNR signed comprehensive cooperation agreement
VNR and Petrolimex also agreed to study the former's infrastructure system and select reasonable locations for investment and the development of petroleum stations.
The two companies will also cooperate in banking and financial services, insurance, and the promotion of brand names, among others.
"With specific cooperation projects and support from the Ministry of Transport and the Ministry of Industry and Trade, the cooperation will bring fruitful results," Petrolimex chairman Bui Ngoc Bao said.
"The comprehensive cooperation between VNR and Petrolimex will help the two sides to tap into their own potential and advantages, thus increasing added value and developing each other," added VNR chairman Vu Anh Minh.
At the event, units of VNR and Petrolimex signed cooperation agreements, including one between Petrolimex Paints Company Limited and Railway Transport and Trade Joint Stock Company (Ratraco), and another between Petrolimex Hanoi Co., Ltd. and Ratraco. Additionally, PG Bank also signed agreements with Saigon Railway Transport Company and Hanoi Railway Transport Joint Stock Company.
Petrolimex is Vietnam's biggest petroleum distributor. The petroleum giant currently holds 44 per cent of the domestic oil market, with over 50 per cent of its products directly sold to consumers and around 20 per cent directly sold to industrial customers. This extensive distribution network and over 50 years of experience in petroleum trading secure Petrolimex' huge market advantage.
In 2016, Petrolimex's consolidated net revenue was VND123 trillion ($5.46 billion) and pre-tax profit reached VND6.3 trillion ($279.4 million), up 68 per cent compared to 2015.
The railway industry is undergoing a comprehensive revamp with many major tasks ahead, including upgrading the current railway system to maximise its potential and preparing financial resources for the North-South high-speed railway project, which will be submitted to the National Assembly (NA) in 2018. VNR is eyeing co-operation with domestic and international groups to realise its future development plans.